More precisely, it is okay to do boring, soul-crushing things.
We all want to do "fancy" and exciting things, most, if not all the time. This very blog is an exercise in posting something neat.
But most of the time, you have to play an adult and do the nitty-gritty things to actually finish something.
Now, this bme680 sensor is becoming a pet peeve of mine.
Thinking that the heating element was burned, not much attention was paid to the actual gas resistance values denoting air quality. Not that there is any reference to good/bad values outside of using the BSEC library to print out an AQI value. And now with a set of working sensors, the results did not get better or comparable with the output from the Arduino install.
To be fair, upon a review, a few of my own bugs were discovered (like, never actually writing proper heating timings to the sensor). Don't code during heatwaves without an AC; it's not good for your code.
Nevertheless, something is "missing" from the documentation: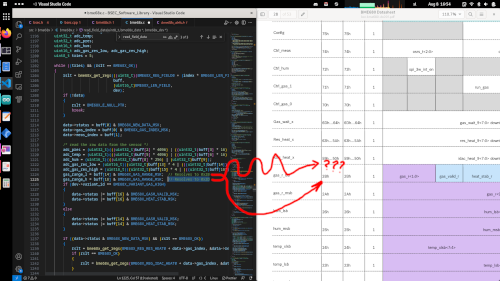 Now this example actually turned out to be a red herring, since all sensors are identified from the documented registers, and you can't blame the manufacturer for this too much. It might have something to do with internal testing/QA or a set-up for a different sensor in the family. Who knows?
But then there is this doodoo duckery: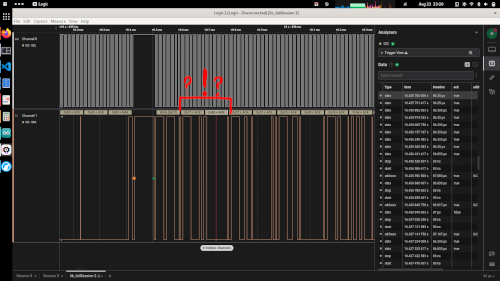 This is why we have trust issues. When using the BSEC Arduino library with the binary blobs that can calculate the AIQ from gas resistance, if you check the communication on the bus with a logic analyzer, you can see the library writing values to bits that are marked DO NOT CHANGE in the documentation.
A theory is being developed here: this sensor is great and easy to use for temperature, pressure, and humidity. Start sampling, read the data, convert to preferred units, and that's it. For air quality, this was never intended to be used without the provided blobs.
Now that we are observing the sensor with the BSEC library, there are some quirks being discovered. From "burn in time" for gas sensor (before giving reliable measurements) not being time since the sensor was powered on but time constantly sampling at least every 3 seconds. To the documentation/library performing "do as I say, not as I do" and changing DO NOT CHANGE BITS.
Now this mistery is far from over. But the process of solving it is tedious. Boring. Filled with wishes for doing something more exciting. And yet, you have to do what you have to do. And that's okay.